Larry Golsh - Artist

An artist is a person who creates beauty for all the world.
This perfectly describes Larry Golsh, Native America Artist, jeweler, sculptor, and architectural designer whose work has won international acclaim. All of his jewelry is exclusively designed, entirely hand fabricated, crafted with the rich color of high-karat gold, silver and rare stones. Custom designs may be commissioned.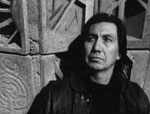 Calendar of Events

Faust Gallery-Scottsdale, Arizona
Showing and sale of new work, February 1-29, 2000
Opening reception: Thursday, February 3, 2000, 6PM to 9PM
Heard Museum-Phoenix, Arizona
Exhibit, "An Eye for Art, A Heart for Artists"
January 2000 through August 2000



Larry Golsh Jewelry Available at
Faust Gallery
7103 East Main Street
Scottsdale, AZ 85251
480.946.6345 tel
Heard Museum Shop
2301 North Central Avenue
Phoenix, AZ 85004
602.252.8344 tel

Larry Golsh Design Studios
7349 Via Paseo Del Sur
Suite 515-441
Scottsdale, AZ 85258
480.483.9706 tel
603.761.7254 fax
E-mail larrygolsh@msn.com
Copyright © 2000 Larry Golsh Design Studios